It's already April? I seriously think I somehow missed March. The gorgeous weather we have been having makes it seem like June, though! I am linking up with Maegan again!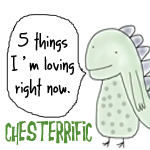 1.
SLEEP
. For the last 3 or 4 mornings, Kenley has slept past 8am. It is glorious. Now, I still have Brayden coming in our room around 6:30-7, but generally I can convince him to watch Little Einsteins in our bed while I get a few more minutes of sleep.
2. Wedding planning. My sister got engaged last Saturday, and is getting married Labor Day weekend! We are just beyond thrilled for her and her fiancé, Eric. Her ring is GORGEOUS, and it's been fun planning! We actually started planning before the engagement was "official" so we are definitely on the ball. I already have the bridal shower and bachelorette party details down, we went and picked out bridesmaids dresses yesterday (a great motivator to get to the gym and put down the pop!), her dress is ordered- it's been fun so far!
3. Shopping. Don't worry, I am still within my rules for the Clothing Challenge, but we have 6 weddings this year I believe, and I have a closet of only maternity dresses. I ordered 2 dresses from ModCloth and I hope they fit! I ordered 2 from the Gap as well, but one I am kind of unsure how it will look on. We'll see. I can always send them back, right? I did wear a pair of jeans from 2 years ago out the other day and they looked awful on me. THEY MADE ME LOOK 20 POUNDS HEAVIER. But hey, it's what I have to I am just making do!
4. Kenley eating cereal. Sister LOVES her cereal and fruits/veggies and has dropped 2 nursing sessions because of it. The only real nursing she does anymore is first thing in the morning and last thing before bed. The other times? She is really distracted, just messing around, can't decide, etc. SO frustrating. My goal was 6 months with her, and I am just about there. I think this month I am going to start weaning her to formula in a sippy cup. I want to be able to enjoy my sister's wedding festivities without worrying about pumping, taking K with to the bachelorette party, etc and since she is so distracted anyways? It is probably for the best. When Brayden started getting that way, I forced it, and then he just up and quit and it was awful. I am not going to force it this time. I am a little bit sad about it, but I am looking forward to a REAL date night with my husband, celebrating with my sister, and getting off some more weight that breastfeeding is holding onto for me.
5. Blog opportunities. Well, you all know that I am an author over at Fancy Little Things, but you may not know that I am also going to be blogging for the Hearts at Home organization whose conference I have attended the last 2 years! It is basically a blog linkup every month that selected people participate in. Then they pick a winner each time and that winner receives a copy of a book for herself and one to give away on her blog! Awesome, right? I am definitely looking forward to my first post on balance- funny how the Lord knows what I needed to focus on in my life right now.
With these two writing opportunities, I decided to call in a professional, Aimee, to give my blog a MAJOR facelift. I will be incorporating my photography with this blog and rebranding it as Back to the Basics Photography. I want everything to be the same and I want to quit updating more than one site. I am excited about the changes, and I will let you all know when it's done so you can check it out!
© 2012, basicallyjulie.com. All rights reserved. Love it? Print, email, pin, tweet or share but please don't use my work without permission.